The seascape above depicts Makapuu Beach at the eastern tip of the island of Oahu in the Hawaiian Islands. What's unique about the image is that no paint was used to create it. Instead, pieces of plastic debris washed onto the beach and collected by the artist were glued onto a board to create the image. The original artwork is 40 inches by 30 inches.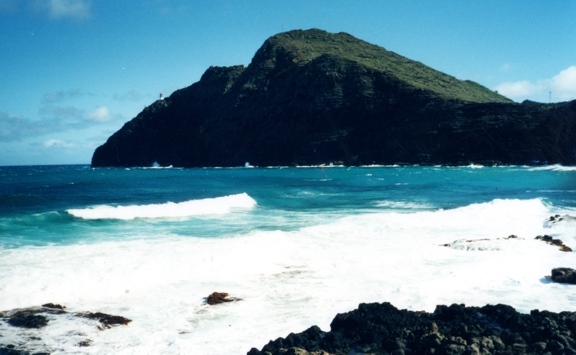 The point is that so much plastic debris washes onto Makapuu Beach, it is possible to create a seascape of that very beach using the plastic pieces. All of the plastic was collected at Makapuu Beach between December 2001 and February 2002. All of the pieces were used as they were found. No piece was altered in any way except to wash off the sand.
The artist hopes to bring attention to the problem of ocean pollution and encourage all to make an extra effort to keep plastic litter out of our beautiful oceans and off our precious beaches.
Beyond fouling our beaches, plastic flotsam and jetsam is a danger to marine life and sea birds that mistake it for food. On Midway Island plastic lighters litter the ground. The lighters are swallowed by albatrosses at sea and regurgitated on land or fed to their chicks who then die. The chick carcass rots leaving the lighter on the ground.
Plastic beach debris is not a problem isolated to Makapu'u beach. KITV News reported that after heavy rains in January debris and garbage washed down stream, and collected in Keehi Lagoon. The debris was so thick it almost blocked the boathouse for the fire department's rescue boat.
John Pritchett is the long time editorial cartoonist at Honolulu Weekly. His editorial cartoons also appear in The Lahaina News on Maui, and he has provided many drawings for Environment Hawaii, a newsletter based in Hilo, Hawaii. He has contributed artwork to The Sierra Club, Hawaii Chapter and The Outdoor Circle as well. John is an award-winning editorial cartoonist who believes that political activism and the encouragement of activism is part of the job.
A resident of Hawaii for forty-two years, John is an avid body surfer and his favorite beach is Makapuu.